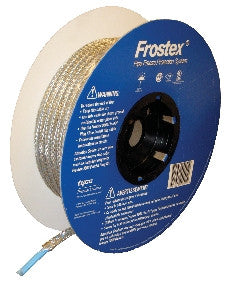 Frostex Heating Cable 250' Roll
Frostex Heating Cable 250' Roll $440.00 

outside the usa  purchases  duties, taxes and fees any applicable Clearance Entry Fees (CEF) and other import fees. are the buyers reasonability

FROSTEX is a name you have come to trust for keeping exposed water lines from freezing. You will need to know the type of pipe you will use the Frostex heat tape on, whether plastic of metal, the diameter of the pipe, as well as the lowest expected air temperature, and the number of valves and spigots. Example would be 1" PVC pipe 23' long with one ball valve protecting for -20 degree F would require 23' x 2 = 46' + 1' for the valve area and 1' for the plug in needed.